Join us in this stunning paradise, and dive deep into connection, movement and joy. Rachel and Charlotte will guide you as you move, restore, connect, and come alive!
Yoga & Mindfulness retreat, Santorini
Explore the wonders of this island jewel and deepen your practice. Come home with more clarity, more ease, more smiles and with plenty of memories.
This Azulfit retreat program is crafted  with the care. Morning classes with Rachel will uplift and inspire. Afternoon sessions with Charlotte will restore and take you deeper.  Between sessions, discover the island and all its magnificent sights from crystal clear sea to striking volcanic caldera vistas.
This is an experience designed to recharge, rejuvenate and restore you in one of the world's most beautiful settings. Pure bliss!
Enjoy delicious cuisine to compliment the amazing movement as you feel your energy recharge and your mental clarity and focus grow stronger and your heart fill with joy, friendship and the wonderous sense of endless possibility.
This rejuvenating retreat program combines Yoga, Mindfulness and Meditation to take you on an incredible journey of wellbeing and discovery in stunning Santorini.
As well as the expert teachings you will also find yourself rebalanced by the beautiful nature of Santorini, with inspiring walks and views all around. Take in the stillness, soak up the Greek sunshine and enjoy the energy of this special island, allowing yourself the time and space to invite relaxation and wellbeing in.
About the instructors
Rachel Blunt
Rachel loves to encourage playfulness and wonder within her yoga practice, her classes and life. She has been teaching full time since 2006, hosting her own retreats and exploring the world. She has a rich yoga history, training directly under master teachers and is an inspiring practitioner and source of joy to all around her.
You can expect to practice anything from Hatha to Vinyasa to Yin to Partner Yoga and all with a few laughs along the way. Rachel's welcoming nature, her rich storytelling and her kind and sunny outlook make her the perfect host for this beautiful location retreat.
Charlotte Mulvany 
Charlotte started her journey with us as a young yogini and volunteer in 2012, a six month experience which quite literally changed her life. Having learned a new, simpler way of living, Yoga became her compass, an internal light.  She sees her job as quite simple; to help to make the Azulfit dream a reality- creating an environment in which our team and our guests can meet their greatest potential. Through care, support, positivity and passion inside and outside of the studio we can grow and thrive, and find the inner peace and happiness that is our true nature.
Charlotte's classes will take you deeper - ever the student she is passionate about sharing her knowledge, kindness and compassion to help you gain a deeper understanding of your practice, your body and yourself.
The location
Crescent-shaped Santorini is considered the precious gem of the Aegean. With its white-washed clifftop villages set against the deep blue sky, multi-coloured beaches, volcanic vineyards, crystal clear waters and world famous sunsets, it is easy to fall under the spell of this magical, mythical island.
Your retreat home of Oia is located high up on what is considered the balcony of Santorini. Oia is known for its amazing views of the volcano.  Just two kilometers from the beach with inspiring walks and views all around, this is a chance to truly unwind and explore the many facets of beautiful Santorini.
The sublime setting of Santorini will inspire you for an incredible week of rejuvenation. Adding our Azulfit twist, this is a week not to be missed.
Class schedule
| | | |
| --- | --- | --- |
| | Morning | Afternoon |
| Saturday | Arrivals | Gentle yoga | evening welcome meal |
| Sunday | Yoga | Breakfast | Orientation and Day Trip to Oia | Restorative Yoga | guided welcome meditation | evening meal |
| Monday | Morning yoga | Breakfast | Pranayama and guided meditation | evening meal |
| Tuesday | Morning yoga | Breakfast | Restorative Yoga | evening meal |
| Wednesday | Morning yoga | Breakfast | Free afternoon/ Optional Catamaran Excursion | evening meal |
| Thursday | Morning yoga | Breakfast | Yin Yoga | evening meal |
| Friday | Morning yoga | Breakfast | Yoga | meditation & farewell session | evening goodbye meal |
| Saturday | Morning yoga |Breakfast | Departures |
Accommodation
On this retreat, the accommodations are beautiful whitewashed buildings with traditional features. Double studios, or rooms with a double and single bed are available for two  sharing. We also have triple / quad rooms available with two twin beds and one double bed.
Meals
Daily breakfasts will be served after the morning session.
Healthy organic evening meals are included and are grown from the retreat centre's garden. They are vegetarian multi course meals, with starters and a main course. Fish will also feature on the menu two nights, and vegetarian options will be provided each night.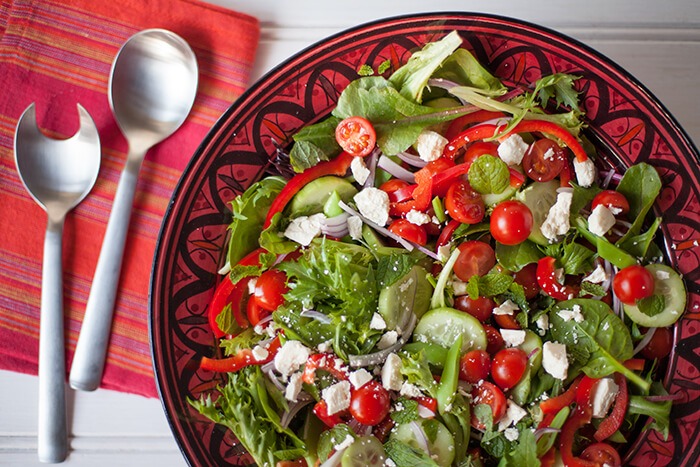 Lunch is available for an additional cost at the retreat centre restaurant, or you can explore the nearby village during your down time.
'We strongly support the idea of organic nutrition, that's why we offer our customers a wide range of Greek, traditional dishes using as many ingredients as we can from our own produce, such as cherry tomatoes, white aubergines, local cucumbers (katsounia), round zucchinis, string beans (ampelofasoula), grapes, figs, melons and watermelons. Take a stroll into our vegetable garden and get acquainted with the renowned, dry varieties which grow on the island and taste the fruit of our fig trees which surround your bungalows.'
Massage, beauty & complementary therapies
Massages can be booked for you to take place at the retreat centre. Melt away stress and tensions and enjoy a relaxing afternoon by the pool post massage. Pure bliss. Please contact us for more information.
Prices
What's included:
Seven nights in the beautiful retreat center accommodation
All classes (twice daily)
Daily breakfasts
Seven delicious vegetarian evening meals
All equipment (mats, belts, etc.)
Prices: 
1125 euros per person for a shared room and 1395 euros per person for a private room. Triple rooms and Quad rooms are also available.
Back to speciality retreats menu.
Contact us for more information or Book Now:
Searching Availability...