Join us to dive deep into connection, movement, and joy.  Charlotte and Sarah will guide you as you move, restore, connect, and come alive!
Yoga & Mindfulness retreat, Santorini
Be taken on a real adventure of connection and joyful discovery! Rediscover your inner vibrancy and joy on a journey to stimulate the senses through yoga, meditation, restoration and exploration… experience moments of warmth, kindness, connectivity and clarity as you find a renewed sense of ease and purpose in this unique location, our home from home; the Pelagos hotel in Oia, Santorini.
The "Retreat Into Joy´ programme combines morning flowing yoga practices, walks and meditations to uplift and inspire, with afternoon sessions to help restore and re-connect. Between sessions there is time to discover the island and its natural magnificence, or simply to relax, sunbathe and swim in the comfort of the retreat setting.
Delicious meals are prepared by the retreat chef George daily, combining traditional Greek cuisine with local Santorini flavours and vegetables and herbs picked fresh from the retreat garden. George will surprise and delight your pallet and with the richness and flavour of the Mediterranean vegetarian diet.
This rejuvenating retreat program combines Yoga, Mindfulness and Meditation to take you on an incredible journey of wellbeing and discovery in stunning Santorini.
As well as the expert teachings you will also find yourself rebalanced by the beautiful nature of Santorini, with inspiring walks and views all around. Take in the stillness, soak up the Greek sunshine and enjoy the energy of this special island, allowing yourself the time and space to invite relaxation and wellbeing in.
About the instructors
Charlotte Mulvany 
Charlotte started her journey with us as a young yogini and volunteer in 2012, a six-month experience which quite literally changed her life. Having learned a new, simpler way of living, Yoga became her compass, an internal light.  She sees her job as quite simple; to help to make the Azulfit dream a reality- creating an environment in which our team and our guests can meet their greatest potential. Through care, support, positivity, and passion inside and outside of the studio we can grow and thrive and find the inner peace and happiness that is our true nature.
Charlotte's classes will take you deeper - ever the student, Charlotte is passionate about sharing her knowledge, kindness and compassion to help you gain a deeper understanding of your practice, your body and yourself.
Sarah Warman
Sarah was born in the U.K. but is a child of the world. Her passion in life has been to travel, meet new people and experience as much as possible. She has spent most of the last 19 years traveling, living and working in Spain, the Caribbean, Italy, Greece, Australia, South East Asia, East Africa, India, Nepal, and Bali. Whilst living and working overseas she has gathered varied skills including working in the travel industry in Italy, teaching English for a charity in Nepal, working on an ecological project in Bali, raising funds and distributing shoes for a children's charity in East Africa, training as primary school teacher, managing restaurants and even had her own cake business in the Caribbean. Her experiences have given her a broad love for the planet, its wonderful people and a better understanding of our interconnectedness. Her favourite thing in life is her love of people and to help them in any way she can to reach their best potential, either through teaching, charity work or simply by listening and trying to accommodate their needs in her job.
It was during her 7 years living in the Caribbean that she began her health and spiritual journey. She discovered yoga and the power it brings to connect the mind, body, breath and spirit. She also discovered healthier ways of eating through the health food movement that was sweeping the island.
Sarah
would go on many yoga retreats herself to rejuvenate when it suddenly occurred to her, why was she going away on holiday to be healthy, why couldn't it be a part of her everyday life? So she took the plunge and completed her training as an Ashtanga Vinyasa and Yin yoga teacher in India, and to see if she could find a way to make it her lifestyle everyday. She was blessed to discover Azulfit and hasn't looked back since. You can find her local classes in York and her Mandala artwork on
My Mandala Yoga
.
The location
Crescent-shaped Santorini is considered the precious gem of the Aegean. With its white-washed clifftop villages set against the deep blue sky, multi-colored beaches, volcanic vineyards, crystal clear waters, and world-famous sunsets, it is easy to fall under the spell of this magical, mythical island.
Your retreat home is nestled in a valley just below bustling Oia. Oia is a precious gem located high up on what is considered the balcony of Santorini, famous for its amazing views of the submerged caldera. Nestled just 5 mins from a quiet black-sand beach, and with walking distance of vineyards, churches and ruins, the retreat offers an opportunity to relax and unwind in a private setting, whilst offering the totality of a real Santorini experience.
The sublime setting of Santorini will inspire you for an incredible week of discovery.
Life offers us so many moments of pure joy, don't lets this one pass you by.
Class schedule
| | | |
| --- | --- | --- |
| | Morning | Afternoon |
| Saturday | Arrivals | Gentle yoga | evening welcome meal |
| Sunday | Yoga | Breakfast | Orientation and Day Trip to Oia | Restorative Yoga | guided welcome meditation | evening meal |
| Monday | Morning yoga | Breakfast | Meditation and Yin Yoga | evening meal |
| Tuesday | Morning yoga | Breakfast | Restorative Yoga | evening meal |
| Wednesday | Morning yoga & Meditation | Breakfast | Free afternoon/ Optional Catamaran Excursion | evening meal |
| Thursday | Morning yoga | Breakfast | Yin Yoga and Meditation | evening meal |
| Friday | Morning yoga | Breakfast | Yoga | meditation & farewell session | evening goodbye meal |
| Saturday | Breakfast | Departures |
Accommodation
On this retreat, the accommodations are beautiful whitewashed buildings with traditional features. Double studios, or rooms with a double and single bed are available for two  sharing. We also have triple / quad rooms available with two twin beds and one double bed.
Meals
Daily breakfasts will be served after the morning session.
Healthy organic evening meals are included and are grown from the retreat centre's garden. They are vegetarian multi course meals, with starters and a main course. Fish will also feature on the menu two nights, and vegetarian options will be provided each night.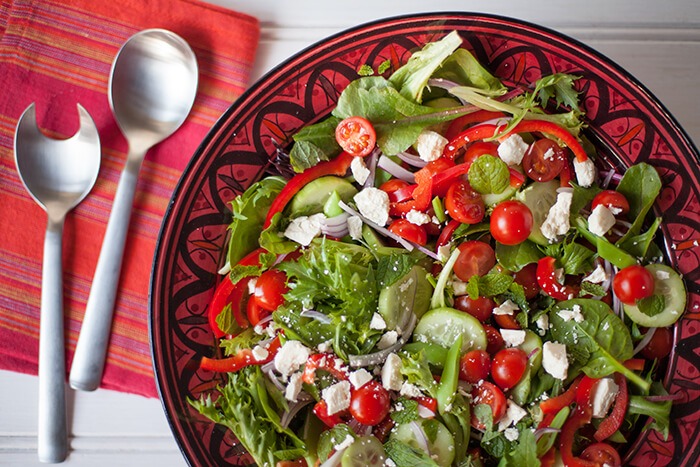 Lunch is available for an additional cost at the retreat centre restaurant, or you can explore the nearby village during your down time.
'We strongly support the idea of organic nutrition, that's why we offer our customers a wide range of Greek, traditional dishes using as many ingredients as we can from our own produce, such as cherry tomatoes, white aubergines, local cucumbers (katsounia), round zucchinis, string beans (ampelofasoula), grapes, figs, melons and watermelons. Take a stroll into our vegetable garden and get acquainted with the renowned, dry varieties which grow on the island and taste the fruit of our fig trees which surround your bungalows.'
Massage, beauty & complementary therapies
Massages can be booked for you to take place at the retreat centre. Melt away stress and tensions and enjoy a relaxing afternoon by the pool post massage. Pure bliss. Please contact us for more information.
Prices
What's included:
Seven nights in the beautiful retreat center accommodation
All classes (twice daily)
Daily breakfasts
Seven delicious vegetarian evening meals
All equipment (mats, belts, etc.)
Prices: 
1125 euros per person for a shared room and 1395 euros per person for a private room. Triple rooms and Quad rooms are also available.
Back to speciality retreats menu.
Contact us for more information or Book Now:
Searching Availability...