Vinyasa & restorative yoga 

Immerse yourself deeply into a week of vinyasa yoga (with an emphasis on fun and flowing Jivamukti) & restorative yoga blended with evening practices of yoga nidra, gentle flow, mantras, and meditation.
Through the practice of yoga and meditation, you will connect with your body, mind, and soul. You will work with amazing instructors through a challenging and fun program that will leave you feeling truly rejuvenated and cleansed. Drawing from the magical energy of Santorini, you will feel connected with yourself and inspired.
It will be the experience of a lifetime, with a chance to immerse yourself in the life-changing practice to connect with your teachers in this relaxed and tranquil retreat setting.
Not only will you be taught by experts, you will also find yourself rebalanced by the beautiful nature of Santorini, with inspiring walks and views all around. Take in the stillness, soak up the Greek sunshine, and enjoy the energy of this special island, allowing yourself the time and space to invite relaxation and wellbeing in.
About the instructors
Andrea Everingham - Yoga & Meditation Instructor
For those of you who know Andrea, you know her energy and passion for yoga are infectious. Fully certified in Jivamukti Yoga, Ashtanga Yoga, and Yoga Therapy (800 hours), she is a highly experienced, inspirational teacher.
Andrea is the founder of OneYoga Studio in Manchester and a regular contributor to 'Ask The Expert' (Manchester Evening News). She combines her many years of experience, studying and working with the human body and movement, with an in-depth study of nutrition and raw foods and their impact on overall wellbeing. She is also trained in ante- and post-natal care.
She joins the Azulfit team with her natural and empathetic teaching style and infectious enthusiasm. Her holistic and sophisticated approach of total body, s mind and spirit integration, is as accessible to those new to yoga as it is challenging for the more practiced yogi.
Naturally approachable and caring, her passion is to bring the joy and release of yoga to her students. Her captivating, warm and energetic approach continues to attract a strong following of committed yogis both in her studio and through retreats across the globe.
Helen Clough  - Yoga & Meditation Instructor
I was always drawn to yoga, knowing the benefits for mind body and soul, but just couldn't quite find the perfect place and time. As with most things in life, it came to me, and found me at the right time.
Finally, in Manchester, I had found a place to reconnect to my body on a much deeper level than I could ever have anticipated. I hadn't connected to my body in such a freeing, liberating, creative, fun and playful way since my dancing days. I particularly loved vinyasa flow and Jivamukti. And not long after, yin and restorative began to seep into my practice. I was hooked, and found myself craving more and more, always with a thirst for knowledge, my mind wanted to know more about Yoga and it's fascinating history, until finally after my teacher convinced me I was ready, I signed up to do teacher training, here in Fuerteventura with Andrea Everingham at Azulfit.
What a location, the whole experience was truly first class and incredible. It wasn't long, and didn't take very much before my teaching days came back to me like they were yesterday and became more important to me than my regional manager role. I made the bold move to quit corporate, and move into teaching yoga full time. It was an easy decision for me when a position at Azulfit came up. Having experienced first hand the home Azulfit creates, including their beliefs, ethics and professionalism, I instantly knew this was for me.
Luckily, they felt I fit too. Arriving back at Azulfit, I felt like I had come home. Now I get to do what I love daily, sharing the beautiful gift of reconnecting to ourselves, with wonderful souls in an incredible magnetic island.
The location
Crescent-shaped Santorini is considered the precious gem of the Aegean. With its white-washed clifftop villages set against the deep blue sky, multicolored beaches, vast volcanic vineyards, crystal clear waters and world-famous sunsets, it is easy to fall under the spell of this magical, mythical island.
Your retreat home of Oia is located high up on what is considered the balcony of Santorini. Oia is known for its amazing views of the volcano. Just two kilometers from the beach with inspiring walks and views all around, this is a chance to truly unwind and explore the many facets of beautiful Santorini.
The culture, architecture, geography and gastronomy of Santorini are all reasons to visit in themselves. You can head down to the crystalline coast to take a cooling dip in the deep blue waters and enjoy the stunning beaches with white, red or black sand, spectacular rock formations, and impressive lunar landscapes. Stroll through traditional villages, with narrow streets leading you on an adventure through time gone by. Treat your taste buds to the tantalizing local food, with a whole host of delicious products to sample – some of it coming straight to your table from the organic garden of your Greek host, Antonis. It doesn't get much more authentic than this.
Class schedule
| | | |
| --- | --- | --- |
| | Morning | Afternoon |
| Saturday | Arrivals | Gentle yoga | evening welcome meal |
| Sunday | Jivamukti grounding & opening practice  | Breakfast | Jivamukti fundamentals of alignment, breath & Bandha |Meditation | evening meal |
| Monday | Jivamukti softening into hips  | Breakfast | Restorative yoga | evening meal |
| Tuesday | Jivamukti twist: inner agni | Breakfast | Yin yoga  | evening meal |
| Wednesday | Jivamukti Yoga: It's about Love exploring backbends  | Breakfast | Free afternoon / Catamaran trip | evening meal |
| Thursday | Morning pranayama and meditation | Breakfast | Restorative yoga & mantra  | evening meal |
| Friday | Jivamukti ... Let's practice inversions | Breakfast | Jivamukti yoga &  meditation | evening goodbye meal |
| Saturday | Morning yoga |Breakfast | Departures |
Accommodation
In the beautiful retreat center, you can opt for a single private room or a shared double / triple room if you are traveling with friends, or would like to meet a like-minded roommate to spend the week with! Please contact us for more details.
Meals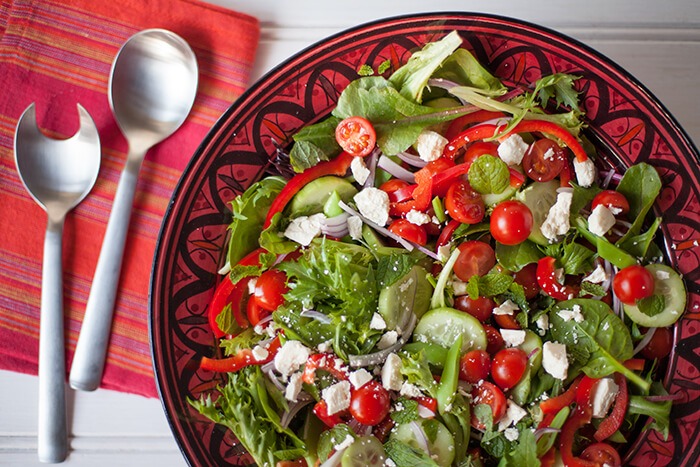 Daily breakfasts will be served after the morning session.
Healthy organic evening meals are included and are grown from the retreat center's garden. They are vegetarian multi-course meals, with starters and a main course. Fish will also feature on the menu two nights, and vegetarian options will be provided each night.
Lunch is available for an additional cost at the retreat centre restaurant, or you can explore the nearby village during your downtime.
'We strongly support the idea of organic nutrition, that's why we offer our customers a wide range of Greek, traditional dishes using as many ingredients as we can from our own produce, such as cherry tomatoes, white aubergines, local cucumbers (katsounia), round zucchinis, string beans (ampelofasoula), grapes, figs, melons and watermelons. Take a stroll into our vegetable garden and get acquainted with the renowned, dry varieties which grow on the island and taste the fruit of our fig trees which surround your bungalows.'
-Antonis, your host in Oia
Massage, beauty & complementary therapies
Massages can be booked for you to take place at the retreat centre. Please contact us for more information.

Prices

What's included:
Seven nights accommodation
All classes as listed above
Daily breakfasts
Seven organic vegetarian or seafood-based evening meals
All equipment (mats, belts, etc.)
Price for our Santorini retreat: The cost of the course is 1125 euros per person for a shared room and 1395 euros per person for a private room. Triple rooms and Quad rooms are also available.
Back to speciality retreats menu.
Contact us for more information or Book Now:
Searching Availability...