Azulfit Reformer Pilates
Retreat
Year round, Saturday to Saturday
Are you a Pilates lover? Are you looking for a Pilates retreat, but you're struggling to find a retreat that fits your schedule?
Are you interested in practicing on Pilates reformers and Pilates machines or wish to get a deeper understanding of the mat exercises and takeaway some ideas to use at home?
 Then this Pilates retreat experience is for you. 
A pilates reformer retreat for you
Your specially tailored retreat week includes:
Classes
Pilates is an amazing method and many of our guests love to join us just for the wonderful Pilates classes.
This is why we have created a special year-round Pilates retreat experience that can be modified to suit your needs. Simply add extra mat or Pilates reformer sessions to your package and immerse yourself in Pilates magic!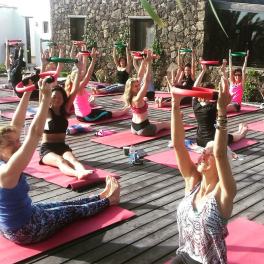 Daily group Pilates class: This allows you to bond and socialise with other guests whilst still enjoying the amazing tuition from our incredible Pilates instructors. Group classes are mat based with additional props, such as circles, balls and bands.
2 Pilates reformer sessions: (1 Private & 1 Duet) These additional Pilates machine sessions give you plenty of personal attention to elevate your practice whilst ensuring safe and detailed guidance using the Pilates reformers, towers or Pilates Wunda chairs. These sessions can be booked to coordinate with your schedule (* Subject to teachers availability) and will act as the perfect compliment to your Pilates mat classes. Additional equipment sessions, with our incredible instructors, can also be booked (* Subject to teachers availability) at an additional price for those looking to supplement their package further.
Access to all yoga classes: Although Pilates is your focus, perhaps you also enjoy the yoga or meditation aspect of the retreat or wish to experience yoga with our warm and knowledgeable teachers. Having this as an option can provide an additional challenge to your program or bring a new option to your movement experience.
Itinerary
Venue
Rooms
Food
Dates & Prices
Just send us a quick message and we will answer any questions and help you to book. We're here and happy to help…