The Surya programme is the reflection of 10+ years of careful planning and refining. Believing in the complementary nature of yoga and Pilates, we have crafted a calendar that emphasizes experimentation and progression. Combining taster courses, specialist weeks and teacher training modules alongside mediation, therapies and workshop intensives, we are confident all levels practitioner to feel supported, challenged and inspired.
Led by Lindsey Todd, Charlotte Mulvany and Jo Dombernowsky, our inspired team will share their knowledge and passions with you. You will feel supported and encouraged, whatever your level. The diverse weekly schedule (over 18 classroom hours) is delivered at a pace that allows you to do it all and still have time for additional therapies and exploration.  Be more selective and just relax–  it's your retreat, you decide what is right for you!
Location
A bright, open wooden floored yoga shala is an inviting space in which to deepen your practice and offers a true immersion into mindful movement. Pure bliss.
For the Pilates lovers, our apparatus studio allows you to schedule private sessions with our expert teachers, this careful one to one tuition allowing time to focus on your personal needs and to elevate your private practice.
Classes offered on our Signature retreat week
Vinyasa flow yoga
Vinyasa flow is a flowing, dynamic form of yoga which involves moving from one pose to another in a constant flow, with the breath. This form of yoga builds strength and stamina. Flow through postures to open your body and feel invigorated and rejuvenated. 
Hatha yoga
Hatha yoga focuses on relaxing the body and the mind through deep stretching and abdominal breathing. Our classes on arrival day and early in the week will have a basis in Hatha yoga.

Yin yoga
Yin yoga is a complementary practice to the more dynamic forms of yoga, and to our busy fast paced lives, with the intention of stimulating and strengthening the tissues of the body not normally emphasized in more active practices. The word Yin, comes from the Daoist Yin-Yang theory, which holds that the universe is made of complementary and oppositional forces; up – down, hot – cold, male- female; these concepts are relative existing in relation to one another, like two sides of a coin, and when we balance the yin and yang in our lives, we flow in harmony with nature. A yin class is designed with this balance and harmony in mind, so you can expect to be guided softly into familiar yoga postures, using props and supports to hold a sensitive presence to sensation with the body for between 3-5 minutes. This is a slow, passive, receptive practice which will leave you feeling nourished, with a sense of equinimity and relaxation for the body and mind.
Pilates
The primary physical focus of Pilates is on building core strength to improve alignment, posture and overall strength. It was originally developed by Joseph Pilates to aid rehabilitation after injury. Our team of experts are classically trained but have also trained in the progressive approach, so can expertly teach to all levels and inspire you on the next step of your Pilates adventure. This is much more than gym class, this is a chance to experience Pilates in its true form and to use the practice to help you build fluid graceful movement, from the core to prevent injury and improve all aspects of your physical practice.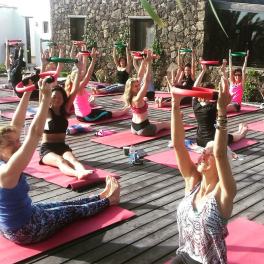 Meditation
Meditation has many different forms and ways to approach the practice. It generally involves a stilling and quietening of the mind that is deeply relaxing and promotes health and healing.You will experience several types of meditation, from cleansing to breath focused meditations, to help promote stillness and mindfulness. These are optional practices available over the course of the week.

At Azulfit Surya Retreat you can enjoy a fantastic range of classes, including yoga, Pilates & meditation. These classes are for a variety of levels and instructors will provide modifications for beginner, intermediate and advanced students. However, if you have a particular condition/injury or are pregnant, we can not guarantee that all classes will be suitable for you. We recommend contacting us in advance to discuss your needs. If you are interested in a specific practice we recommend you join one of our speciality retreats.
Where next?…
Check prices and availability
Choose your room
Back to retreats menu